Description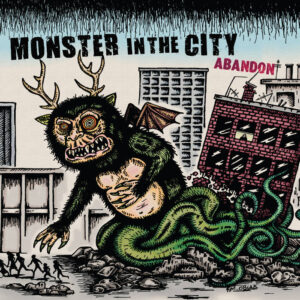 Monster in the City began as a series of visual art projects ten years ago. While it all began in Cleveland, the project's sense of place is "every" urban center and the cast of monsters are individual one-off characters who represent the misunderstood monster or alter-ego in all of us. The visual and musical style is authentically Timmie Boose whose previous bands were Generic You (fractured blues) and Critikill (electronic).
Five years ago these drawings and paintings morphed into computer driven music with a dirty electronic vibe. Grungy synth lines and distorted guitars, a stripped down trashy beat and intimate spoken vocals lament love, technology, societal alienation, ennui and existential angst. The title track is about the nihilism that comes from the other's black mood which can spread like a virus in close quarters. "Smoking in America" is about social fads which compares the rate of experimental smoking in this country to the rate of teenage suicide in the South Pacific. The track "Technology is Fucking with Me" talks about our mounting frustration with the constant incremental upgrades in software and hardware necessary for our co-existence. This is the inverse of the promise of technology or the promise of futurists. We are not becoming one with technology, but instead are trading our creative pursuits for a tedious left-brained existence. "Eye" is about going from a state of indecision, into chaos and possibly death, and finding final freedom from choice. "Knight of Rods" is about falling in love with someone's potential.
Cover art by Frank Oblak.